The year has been a dreary one with the COVID-19 pandemic. But that does not mean we cannot end the year off with a bang. That is why today's article will be part of a 3 part series in light of Christmas. Today, our gift to you from the series is the only list you will ever need to find the perfect festive À La Carte Menu this month.
Miss Fitz
Enjoy a cosy Christmas with loved ones at Miss Fitz
Miss Fitz's Christmas Menu starts with an appetiser of Cranberry Brie Puffs, followed by a full Festive Dinner. Their menu includes a choice of Turkey Breast, Honey Baked Ham, Roast Beef or Roasted Eggplant served with maple glazed Brussel sprouts, creamy mashed potato, savoury gravy and sweet house-made cranberry sauce.
Those with a sweet tooth (it's Christmas after all), can savour warm Apple Crumble with rich Caramel Sauce or a unique and exclusive Pumpkin Crème Brulee.
Treat yourself to a Christmas cocktail from their newly launched bar, Roxy
Looking for drinks? Treat yourself to a festive Christmas cocktail from their newly launched hidden bar, Roxy. Enjoy a glass of the ever-essential Eggnog, with Rémy Martin VSOP and house-made pumpkin pie spice. Or a playful Gingerbread Old Fashioned with Wild Turkey Bourbon ($ ) and many others. A plus point? For every $50 spent at the bar, guests can stand to win gifts including a 3D2N stay at Sentosa!
Where: 6 Marina Boulevard, 01-17, 018980
Opening Hours: Monday – Sunday, 11am – 1030pm
To find out more and reserve a table, please click here.
Heritage Bar & Lounge (Estimated damage: S$88 – S$148++/pax)
Debuting this Christmas, Heritage Bar & Lounge located at Ramada by Wyndham Singapore is introducing their festive takeaways. Find traditional crowd-pleasing signatures in their menu such as their Garlic Stuffed Roasted Poulet (S$88 for 4-6 pax).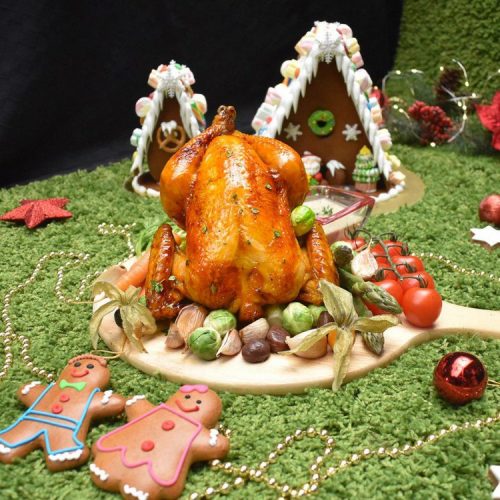 Garlic Stuffed Roasted Poulet is served with roasted garlic, vegetables, potato wedges and truffle mustard sauce
Alternatively, try the satisfying Roasted Angus Beef Ribeye (S$268 for 10 pax and above). 
Roasted Angus Beef Ribeye is paired with roasted vegetables and port wine compote
As well as these are the Honey Glazed Ham (S$148 for 10pax and above) with Apple Cinnamon Raisin sauce and roasted vegetables.
Honey Glazed Ham
 Top it up with 4 extensive variety of festive cakes and pair it with their house-made cocktail-on-the-go. Choose from a zesty Dulcey Yuzu cake, rich Chocolate Butter Cream, refreshing Soursop Lychee or a creamy Starry Blueberry Cheesecake for a sweet end to your meal.
Where: 16 Ah Hood Road, 329982
To find out more and order, please click here.
Artemis Grill & Sky Bar (Estimated damage: S$40 – S$120++/pax)
Enjoy a family dinner at Artemis Grill, a sky-high dining concept in Singapore
Artemis offers a special à la carte Festive Menu from Christmas Eve through to Boxing Day. Perfect for a family, the gems of the menu include their Pot Roasted Turkey Breast (S$98++/2-3pax or S$198++/4-5pax) and their Black Angus Beef Rib Roast (S$196++/2-3pax or S$392++/4-5pax). These sharing roasts are available for pre-order.
All pre-order sharing roasts are served with Duck Fat Roast Potatoes, Leeks Gratin, Roasted Brussel Sprouts & Bacon
Other festive menu highlights include Fine de Claire Oysters (S$48++ for 6 pieces or S$88++ for 12 pieces) or Beef Tartare (S$32++) for appetisers. And for mains, if you would like to go for something lighter, the Black Cod and Mussels (S$58++) would be a great choice. For dessert, share a sweet and Warm Pecan Pie (S$36++) served with a generous portion of ice cream, the perfect end to a perfect meal.
Where: Level 40, 138 Market Street, 048946
Opening Hours: Monday – Friday, Lunch 1130am – 230pm, Dinner 530pm -10pm & Saturday 530pm – 10pm
To find out more and reserve a table, please click here.
PAZZION Café (Estimated damage: S$15 – S$25++/pax)
Not looking for a heavy Christmas meal? Well enjoy a light dessert or snack with PAZZION Cafe's specially created Christmas themed dishes. The first of their three dishes is Mrs Claus' Cheesy Cravings (S$16), a warm and fuzzy bowl of freshly baked camembert generously garnished with thyme and crunchy almonds.
Mrs Claus' Cheesy Cravings is enjoyed with a side of lightly toasted sourdough or water crackers.
The second on the menu is Rudolph's Chocolate Wonderland (S$8.50). With mini pretzels that form Rudolph's antlers and golden stars for eyes, this indulgent dessert is aptly named and will be sure to add a little fun to the season.
Rudolph's Chocolate Wonderland is a rich dark chocolate dessert is layered with mango mousse atop vanilla sponge cake 
Finally, top off your treat with The Grinch's Dream (S$7.50) which is a refreshing concoction of fresh milk and wild mint syrup brew. Complete with a white Christmas tree made of whipped cream, matcha syrup and cereal honey stars as the tree topper.
A smooth, creamy milkshake that can make even The Grinch happy!
Where: 78 Airport Boulevard, B1-243, 819666
Opening Hours: Monday – Thursday, 11am – 830am
Find out more and reserve a table, please click here.
Original article source: https://thewellnessinsider.asia/2020/12/15-places-to-find-festive-a-la-carte-menus-for-christmas/
---
Images: Artemis Grill & Sky Bar, Heritage Bar & Lounge, Miss Fitz and PAZZION Café